CBD Oil Vs. CBD Topicals: Which One Is Right for You?
If you are on the hunt for CBD wellness products, you may have observed that there are a plethora of options available for you to choose from. These options can be anything starting from CBD oil to CBD capsules and CBD topicals to CBD gummies. While some CBD products are broad-spectrum CBD which is THC-free, some contain THC concentrated up to 0.3%. While the healing power of CBD is indisputable, it is important to choose the right product because every human body is different. So, the experience with CBD will vary from person to person.
Coming to CBD oil and CBD topicals, there are a few primary differences between the two which we will be exploring in this article. Here we will make our readers aware of these two CBD types and their effectiveness in managing pain. Give this post a read to make the most informed decision while purchasing the best pain relief CBD cream or CBD oil.
What is CBD oil?
CBD, or Cannabidiol is one of the 120 naturally occurring compounds, found in the Cannabis plant. The CBD compound is extracted from hemp plants or cannabis and infused with a carrier oil such as coconut or hemp oil to form CBD oil.
CBD extracts, particularly used for manufacturing CBD oil, are highly concentrated with Cannabidiol. CBD is sourced from industrially harvested hemp plants and undergoes a critical extraction process to draw out all the essential plant compounds, which include CBD, terpenes, flavonoids, and minor cannabinoids.
You may find products labeled either CBD oil or CBD tinctures in the CBD market. Both are almost similar and provide the same effectiveness except for the medium for dilution during the extraction process. While carrier oil is used in CBD oil, tinctures are suspended in alcohol-based solvents.
What are CBD topicals?
CBD topicals are CBD-infused gel-like creams or lotions designed to apply externally to specific body parts. CBD creams get easily absorbed into the skin, i.e., the epidermis layer, and enter into the pores to provide fast relief from pain or inflammation.
CBD topicals work by interacting with the cannabinoid receptors found in the skin and typically provide you relief within 30-45 minutes. There are various types of CBD topicals available in the market, such as creams, lotions, balms, salves, roll-ons, gels, etc.
Nature's MD offers the best THC-free CBD cream for pain relief and reducing inflammation. It is infused with broad-spectrum CBD extracts that offer a non-greasy application and deep absorption into the skin of the areas applied. Besides being easy to use, the effects of CBD creams are typically immediate because it is applied directly to the affected areas.
CBD oil or CBD Topical – Which one is better?
Are you facing the challenge of deciding which CBD product to pick – CBD topical or CBD oil? Then you may need to rethink the purpose of using CBD. Also, between these two choices, the one that suits your needs better should be considered.
Both have unique healing and therapeutic properties and are effective in chronic pain management. However, most people stick to CBD creams because it allows them to enjoy the wholesome benefits of CBD by applying them directly to the affected areas. Most importantly, the CBD topical pain relief cream is beneficial for targeting localized pain and provides instant relief by acting fast.
In particular, for beginners, CBD topicals should be the most preferred choice because, unlike CBD oil, it doesn't enter the bloodstream. Many people decide to use CBD topicals because they can be quickly and easily applied directly to the areas they need them. CBD topical is minimally invasive and hence, is the safest option for newcomers.
The choice between CBD topical and oil is highly dependent on the reason for using it. If your CBD need is for cognitive wellness or overall improvement of health, then you should go for CBD oil or tincture. CBD oil has higher bioavailability compared to topicals. So, if you are looking for a natural solution for pain relief in joints, muscles, or back, buy 1000mg CBD pain relief cream. It might be the better option compared to tinctures or other CBD products.
How To Use CBD Cream or CBD Oil?
CBD topicals or creams are directly applied to the skin, and the application method is incredibly easy. Simply take a small amount of the cream and apply it to the affected area. Massage the area gently until the cream is completely absorbed into the skin. Letting the cream sink in properly ensures it penetrates the skin layer and affects the endocannabinoid system (ECS).
CBD oil, on the other hand, is consumed sublingually. Oral ingestion of CBD provides lasting effects because of its high bioavailability. Just squeeze a few drops of CBD oil under your tongue and hold it for a minute, or two, before swallowing. The CBD enters the bloodstream through the mucus membranes in your mouth and then goes to the endocannabinoid system. It reacts with the cannabinoid receptors through the central and peripheral nervous system.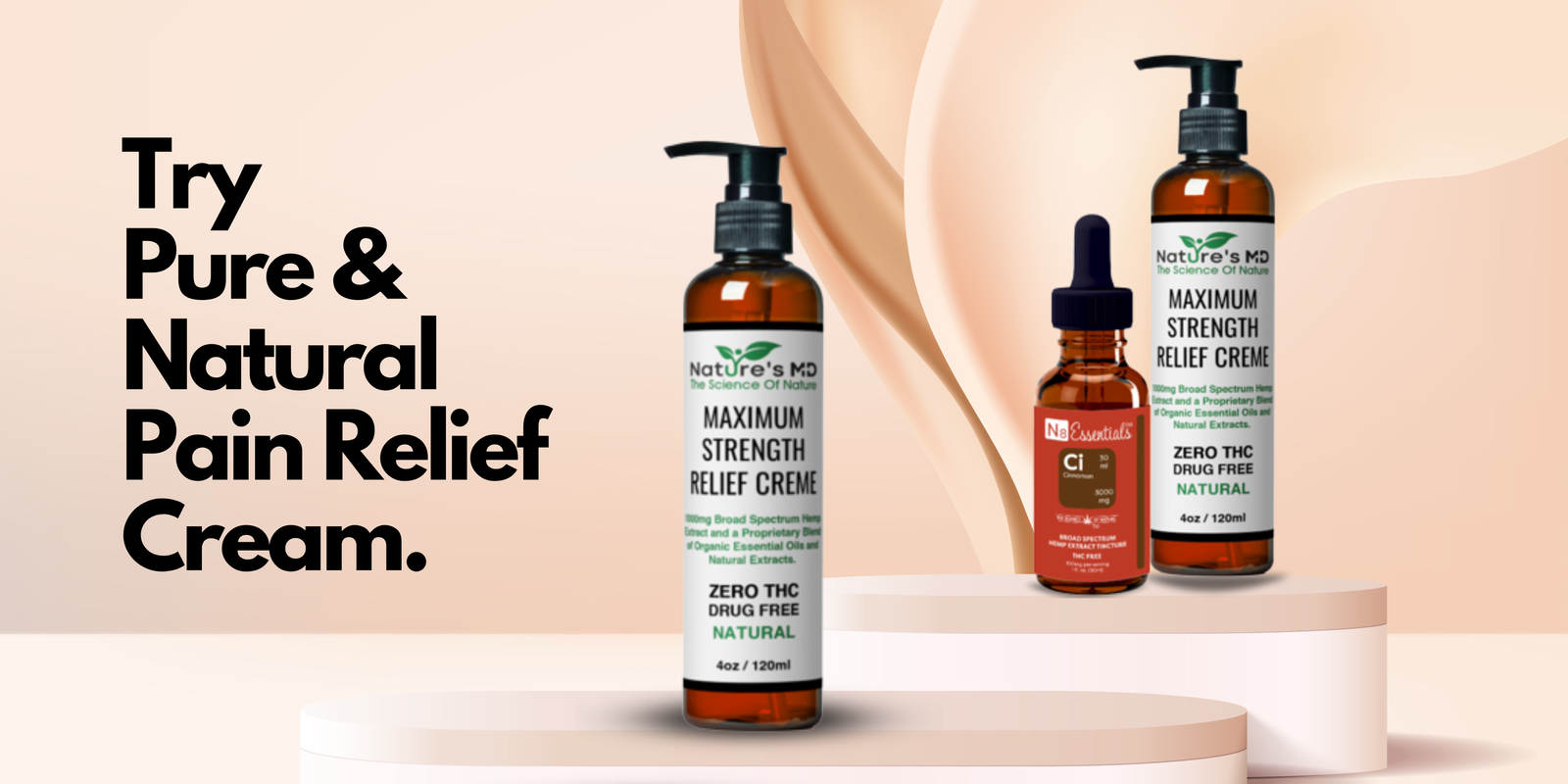 Finding a Quality CBD Topical
No CBD topicals are alike. They vary from each other in terms of quality, ingredients used, CBD concentrations, source, and potency. While selecting a CBD pain relief cream, please look out for the following criteria in the chosen product.
Uses only natural or plant-based ingredients
CBD sourced from organically grown hemp plants
Toxin-free and Non-GMO
Lab-tested for purity and potency
Tick-boxing all the above points ensures that your product is quality checked and is safe to use for reducing pain and discomfort. Therefore, it is important to buy from a trustworthy and reputed brand like Nature's MD to explore the benefits you are looking for.
Wrapping Up
The use of CBD products has become increasingly popular, and anecdotal evidence suggests that they work well in providing temporary relief from pain. While the discussion surrounding whether CBD cream or CBD oil is better is never-ending, in reality, both are effective. Choosing one is a matter of personal choice and depends on your needs.
If you want a fast-acting solution and a localized topical treatment, CBD creams always have the upper hand! Let us know in the comment below which method of CBD consumption you prefer.