Understanding The Benefits Of CBD Pain Relief Cream For Chronic Pain Management
Recent studies on CBD or cannabidiol have taken the medical industry by storm as new potential health benefits of cannabis have unraveled. Although research is still going, people with chronic pain in joints, back, or muscles have reported getting temporary relief from pain after using CBD cream. Medical researchers are still working on the medicinal properties of cannabis and its effectiveness in chronic pain management. If you are seeking a natural remedy for pain relief, try the CBD cream for pain 1000mg by Nature's MD. It is a powerful blend of 1000mg broad spectrum CBD, menthol, camphor, aloe, Neem leaf powder, Xanthan gum, and essential oils.
Introduction to CBD creams
Before we jump into the health benefits of CBD creams, let us first understand what CBD cream is. CBD creams are gel-like lotions or topical products that are infused with CBD in the most concentrated form except for THC. THC or Tetrahydrocannabinol (THC) is the psychoactive constituent of cannabis. CBD is the short form of Cannabidiol which is an active ingredient found in cannabis or hemp plants. It is different from marijuana because CBD is just a single compound extracted from the cannabis plants, whereas Marijuana is a type of cannabis plant containing both CBD and THC compounds. This is why CBD is used for medicinal purposes because the absence of THC makes it safe, and doesn't make you feel high or trigger any psychedelic effects.
CBD creams are formulated using herbal or plant-based ingredients and are infused with CBD of various strengths. These are a type of ointment applied topically to provide rapid relief from joint pain or muscle soreness. CBD cream used for pain management gets easily absorbed into the skin and acts as a fast-acting pain reliever.
Benefits of CBD Creams for Pain Management
A recent survey by Forbes Health, which was conducted by OnePoll on 2,000 US adults, brings to light some intriguing facts about the usefulness of CBD. The report shows that 60% of US adults have used CBD for pain relief and believed that it has several medicinal advantages including potential pain-relieving effects. 62% of them use CBD for reducing stress and 58% for improved sleep quality.
So, CBD creams can be assumed to be an effective reliever for chronic conditions, such as pain lasting for months. The potential health benefits of CBD Creams for pain management are summarized in the points below.
Cannabis interacts with the CB2 receptors which start working slowly by deterring inflammatory hypersensitivity. As a result, the endocannabinoid system of the human body gets a signal and produces anti-inflammatory effects on the areas the CBD cream or lotion is applied.
Most CBD creams are organic and made with natural ingredients, especially the 1000mg broad spectrum pain relief cream hemp extract by Nature's MD. So, rest assured that CBD cream will not have any side effects, unlike painkillers.
It is also considered a safe option for joint pain associated with Arthritis. It is effective in reducing stiffness or swelling in the joints. Regular application of the cream can improve joint flexibility and helps you regain the freedom of movement.
CBD Creams are also beneficial for alleviating muscle pain and soreness. Athletes and fitness enthusiasts use CBD lotion to recover from muscle injuries, inflammation, or any other musculoskeletal ailments.
Most pain relief creams are enriched with herbal extracts to enhance your pain management and comfort. Our specially formulated best CBD and THC free cream for pain contains camphor, a tree extract, that delivers a warming sensation and meanwhile, menthol provides a refreshing cooling effect.
The presence of carefully selected ingredients such as plant extracts, essential oils, and CBD works synergistically to reduce pain and offer a soothing and calming touch to minor injuries, tired muscles, or sore joints.
So, if you are interested in embracing a natural solution to pain management, you might want to give Nature's MD Broad Spectrum Relief Cream 1000mg a try! Also, CBD cream is considered an affordable alternative compared to other methods of pain relief and management such as pain pills, surgeries, physiotherapy, etc. You don't have to go through all the discomfort associated with surgery or physiotherapy because CBD creams offer hassle-free and easy application topically to bring the best results.
Different Types of CBD Extracts
Shopping for CBD products can be daunting, especially if you are new to CBD. There are three types of CBD extracts that you need to choose from, depending on the purpose of your need.
CBD is categorized into three specific terms – Full-spectrum, Broad-spectrum, and CBD isolate.
Full-spectrum CBD – This type of product is made by extracting all the substances of the entire cannabis plant and hence, includes THC, CBG, and CBC. It offers great nutritional benefits to your body and mind.
Broad-spectrum CBD – Products contain cannabinoids and other various compounds of the cannabis plant such as cannabinol, terpenes, and cannabichromene, except THC.
CBD Isolate – As the name says, CBD isolate implies CBD products containing only CBD and no other compounds and phytocannabinoids of the cannabis plant.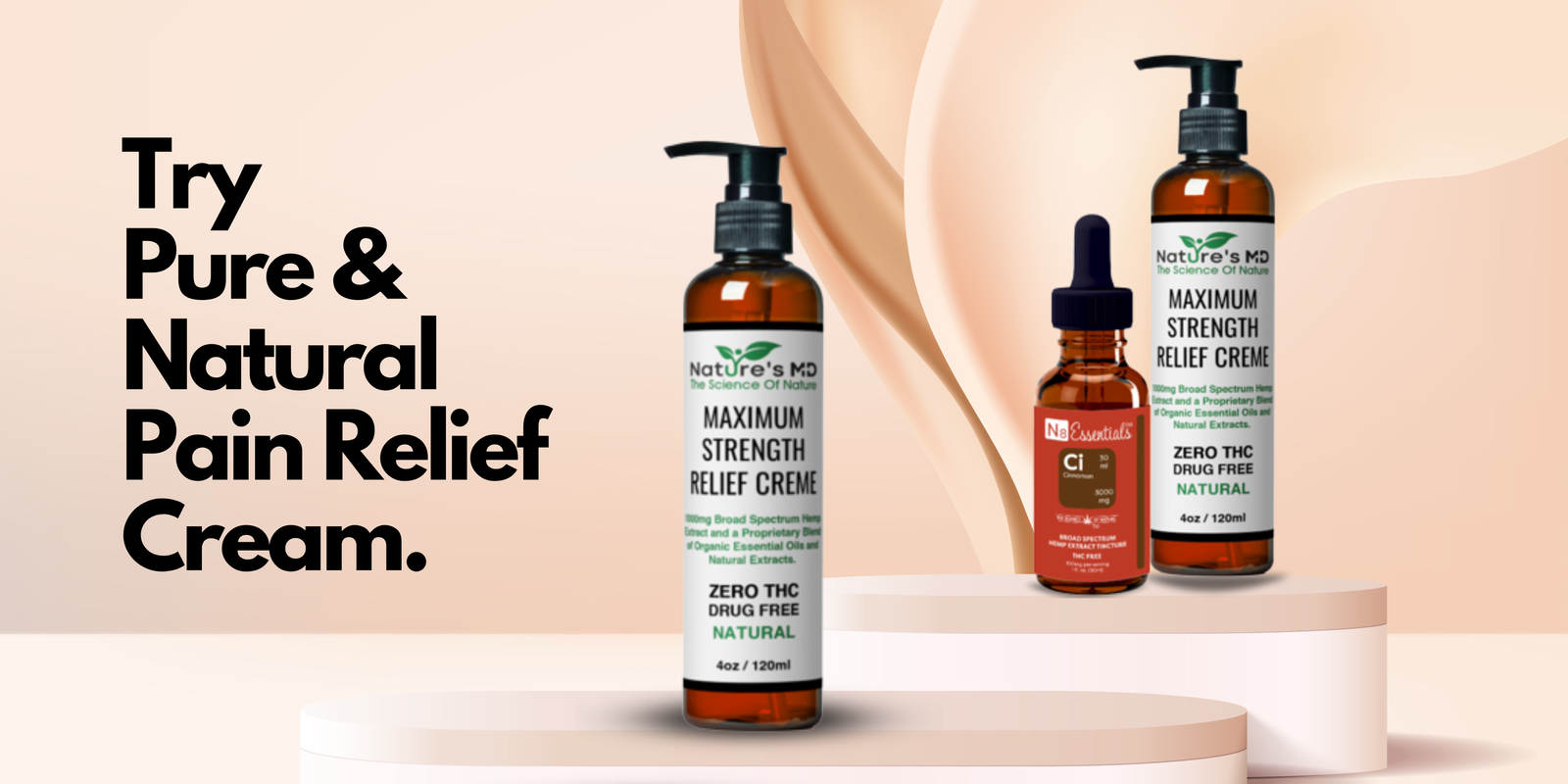 Safety Precautions To Follow Before Taking CBD for Pain Management
As explained above, you can explore numerous benefits by using CBD cream for pain management because of its anti-inflammatory properties. However, it is not suitable for everyone because CBD extracts can bring minor side effects such as nausea, irritability, dry mouth, loss of appetite, and fatigue.
Also, it is recommended not to use CBD cream or any CBD products if you are on medications because CBD might interact with them and produce side effects. Always consult a doctor before you plan to use any product.
Key Takeaway
At Nature's MD, we value the power of nature in providing relief and enhancing the quality of well-being. So, we have come up with a temporary pain relief solution that would reduce pain and help you lead an active life. Buy 1000mg CBD pain relief cream to adopt a natural approach to pain relief and make your life easy.
Note: The potential benefits of the CBD Pain Relief cream listed in the above blog post are not health claims made by Nature's MD. The information provided in the article is intended for general knowledge only. It is not intended to be an alternative or substitute for medical advice or treatment from a healthcare professional. We encourage you to make any treatment decisions after consulting with your healthcare professional.
Table of content
Related articles